Parashas Vayishlach
B"H
Uri Zohar, a former prominent Israeli film director, actor, and comedian, left the entertainment world to become a rabbi. He was one of the most prolific directors and if you were to ask anyone growing up in Israel in the 1960s and '70s who they thought had made the most radical career change in their lifetime, Uri Zohar's name would be at the top of the list.
The 1960s and '70s represented a hippie time in history, whereby the counterculture movement that rejected the mores of mainstream American life and broke all the boundaries, had taken root and then spread to other countries. To elevate oneself into a state of being that was not trapped by the physical constraints of the body; drugs and free-style living were rampant just like the famous Woodstock Music Festival in Upstate New York, August 1969. Thus, this cultural phenomenon spread throughout the world. The hippie lifestyle that Uri was living at that time was very much incorporated into his work.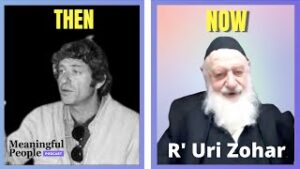 Uri describes in his online interviews that at the age of forty he started changing his direction in life. The chaotic lifestyle was not conducive for a meaningful and deep relationship and he found himself completely devoid of a substantive life.
What I found to be the most profound statement in his recent interview was the following: "Even though I have now been acting as a religious Jew for over forty-five years, I have yet to practice my religion with the same enthusiasm and intensity that I had as a film producer. I would be at work from 3 a.m. and work with ambition and passion all day long. My life's goal now is to serve the Divine with that same level of intensity and passion of my younger years."
In this week's Parsha פרשת וישלח our patriarch Yaakov returns to his homeland and is faced with a brand-new challenge. Eisav, his twin brother, is on his way to kill him with four hundred men. Yaakov fears this life-threatening meeting very much and prepares himself for the battle. In the end, Yaakov and Eisav meet, and no blood is spilled. Eisav wishes to join with Yaakov, however, Yaakov explains that it is not yet the right time and "we will later join together."
From a metaphorical standpoint, this meeting has become the symbol of the internal fight that burns inside each one of us, from early in life, until we take our last breath. Yaakov represents the highly cognitive, structured, and good inclination, and on the other side, Eisav represents terror and horror of a chaotic boundless state of being.
We are taught through society's norms and through trial and error that the only way to grow is to make more cognitive, well-thought-out decisions over impulsive and chaotic ones.
Anyone who has tried to break a bad habit can testify to that.
However, Chasidus explains this meeting in a much deeper manner. According to Chasidus, Eisav`s soul comes from chaos; which we can understand as an unlimited bright light that cannot be extinguished. Yaakov`s soul comes from a lower place of structure and boundaries known in Kabbalah as vessels.
Yaakov did not respect Eisav while growing up and even hates his chaotic behavior now because it is not channeled properly. Its extreme uncontrollable intensity causes damage in this physical world full of boundaries.
Therefore, Yaakov runs away from Eisav to stay alive and repair the world.
Chasidus explains that Yaakov, at this stage in his life, is strong enough to deal with his chaotic brother; Eisav. He is now wise enough to know how to work with Eisav in a way that captures Eisav`s explosive energy and channels it into a glowing, divine force that has a positive global impact.
We can carry this lesson into our lives as well. Many of us in our adolescence experienced traumatic behaviors and experiences. Sometimes these negative experiences were performed by some of the closest people around us. For us to survive emotionally, we create walls as shields that prevent us from making deeper emotional connections, so that we won't get hurt again.
That may be a pseudo healthy short-term solution, however, at a certain point, the only way for you to tap into your full potential is to return to the dark places and deal with them.
Now that you are older and wiser, you can confront these difficult experiences head-on and find ways to remove those walls so that you can connect deeply again, love again, and live again.
When we fulfill a commandment, it imbues us with a feeling of extreme exultation and an abundance of joy. When we pray, our prayers will be genuine. Our hearts will be filled with love and our eyes dripping with tears. Our relationships with others will thrive, as we channel those emotions into our acts of kindness; filled with charity, love, and sincerity.
Have a wonderful Shabbos.
Yitzchok Friedman